Posts for tag: dental implants
By The Island Dentist
November 15, 2018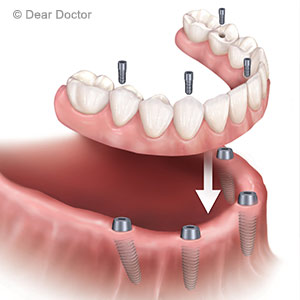 You may be familiar with a dental implant used to replace a single tooth — but implant technology can do much more. Implants can also support other restorations including total teeth replacement on a jaw.
The reason they're so versatile is because implants replace the tooth root as well as the visible crown. We use a metal post, usually made of titanium, which we surgically implant in the jawbone as a root substitute. Because of a special affinity with titanium, bone around the implant grows and adheres to it and creates a durable bond.
With a single tooth replacement (the implant's original purpose when they were introduced in the 1980s) we attach a life-like porcelain crown to the individual titanium post. But with their continuing development we've adapted implants for other applications, like using a few strategically-placed implants as a stable platform for removable dentures or fixed bridges.
We're now able to use implants to support a full prosthetic (false) dental arch. Though similar in appearance to a removable denture, this particular prosthesis is permanently joined to the supporting implants with retaining screws.
Of course, the application requires careful pre-planning, which includes making sure you have enough healthy bone to support the implants. We'll also need to determine how many implants you'll need (usually four to six for this application) and create a surgical guide to place them in the best location for supporting the prosthesis. A dental technician will then create the prosthesis to match your jaw ridge contours and facial structure.
Using implants this way has a benefit other types of restorations can't provide: they may help stop future bone loss. The jawbone life cycle depends on stimulation from the attached tooth as you bite and chew — stimulation that ends when you lose the tooth. Traditional dentures and other restorations can't replicate that stimulation. Implants, on the other hand, directly encourage bone growth and can stop gradual bone loss.
If you need some form of total teeth replacement, consider one supported by implants. You may find they'll provide an excellent long-term solution to both function and appearance.
If you would like more information on the different applications for dental implants, please contact us or schedule an appointment for a consultation.
By The Island Dentist
July 18, 2018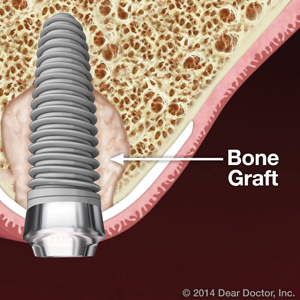 Every day the forces you generate when you bite or chew can exert enormous pressure on your teeth. And day after day your teeth remain stable and secure, thanks to an intricate system of periodontal ligaments, attaching gum tissue and bone. The latter element is especially important — healthy bone makes healthy teeth.
And vice-versa — the same biting forces are transmitted through the tooth root to the bone via the periodontal ligament to stimulate new bone growth to replace older bone that has dissolved (resorbed). If a tooth's missing, however, the bone doesn't receive that stimulation, and the resorbed bone isn't replaced at a healthy rate. In fact, you can lose up to a quarter of bone width in the first year alone after tooth loss.
And this can cause a problem when you're looking to replace that missing tooth with what's considered the best restorative option available: dental implants. Known for their life-likeness and durability, implants nonetheless need sufficient bone to anchor properly for the best outcome. Without it, implants simply aren't practical.
But that doesn't have to be the end of the story: it's quite possible to regenerate enough bone to support implants through bone grafting. Bone material from the patient (or another donor, human, animal or synthetic) is placed under the gum at the missing tooth site to serve as a scaffold for new growth. The new bone growth will eventually replace the graft material.
The size of the graft and extent of the procedure depends of course on the amount of bone loss at the site. Loss can be kept to a minimum, though, if the graft is placed immediately after a tooth extraction, a common practice now. After a few months, the bone created through the graft is sufficient for supporting an implant and gives you the best chance for a beautiful outcome.
If you're considering an implant for a missing tooth, you should schedule a consultation appointment with us as soon as possible. After a thorough dental exam, we'll be able to tell you if bone grafting to support implants is a good idea for you. It adds a little more time to the overall implant process, but the results — a new, more attractive smile — will be well worth it.
If you would like more information on bone regeneration, please contact us or schedule an appointment for a consultation. You can also learn more about this topic by reading the Dear Doctor magazine article "Can Dentists Rebuild Bone?"
By The Island Dentist
July 08, 2018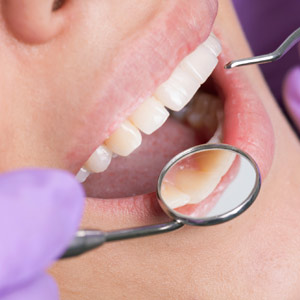 Restoring a smile with implants involves more than the surgical procedure itself. We must also take into consideration the quality of the bone they're placed into and the gums that will surround them — the "canvas" that showcases your new beautiful smile.
Bone — not only at the missing tooth site but supporting neighboring teeth as well — is the foundation for a successful implant. Without an adequate amount of bone, we can't place an implant to achieve a final life-like appearance. Inadequate bone can be a problem if the tooth has been missing for awhile — without the stimulation of biting forces from the tooth, the bone can shrink gradually over time. Periodontal (gum) disease and other dental conditions can also cause bone loss.
The health of your gums — as well as the tissue type you've inherited from your parents, thin or thick — can also determine how natural the implant crown looks as it emerges from them. If they've receded due to gum disease they may not regenerate sufficiently, making your teeth longer-looking or leaving the triangular bit of gum tissue between the teeth, the papillae, noticeably missing. If you've inherited thin tissue gums, you're also more susceptible to gum recession and there's less margin for error during implant surgery.
There are some things we can do to minimize these problems. Tooth removal to make room for the new implant needs to be done carefully with as little tissue trauma as possible; it's also helpful to place grafting material in the empty socket immediately after extraction, especially if there's going to be a time gap before implant placement. If bone loss has already occurred, we can also use similar grafting techniques to rebuild the bone.
Likewise we need to take special care during implant surgery when dealing with thin or diseased gums. With the latter, it's usually necessary to bring the gum disease under control and allow the gums to heal first. In extreme cases, cosmetic gum surgery may also help restore lost tissues and create a more natural look between the gums and the implant crown.
Creating a natural appearance with implants is a blend of technical skill and artistic insight. Keeping the balance between all these factors will produce a smile you'll be proud to show.
If you would like more information on dental implants, please contact us or schedule an appointment for a consultation. You can also learn more about this topic by reading the Dear Doctor magazine article "Matching Teeth & Implants."